How to Loop a Video for Instagram
---
Table of Contents
A looped video repeats itself multiple times or plays back over and over endlessly. When working on a video for Instagram, sometimes it's a good idea to loop video so you can make it more catchy. In today's guide, you'll learn both how to loop a video using third-party tools and how to do it using Instagram features. We'll explore the settings and modifications you can do to make your content more appealing, engaging and delivering your message the right way.
Instagram 123apps video looper
This tool is a powerhouse for video production that takes place on the Web. It means that you don't even have to install any app on her phone and you can do all video editing tasks, by uploading short video clips to the timeline and editing them right in your browser.
Step 1: Upload a video
After opening Video Looper, Go ahead and click Open File to add your clip to the video editor. You can use the Safari browser on an iPhone or another suitable browser on Android. It works with any modern device and browser. It works equally well on desktops and on any mobile device.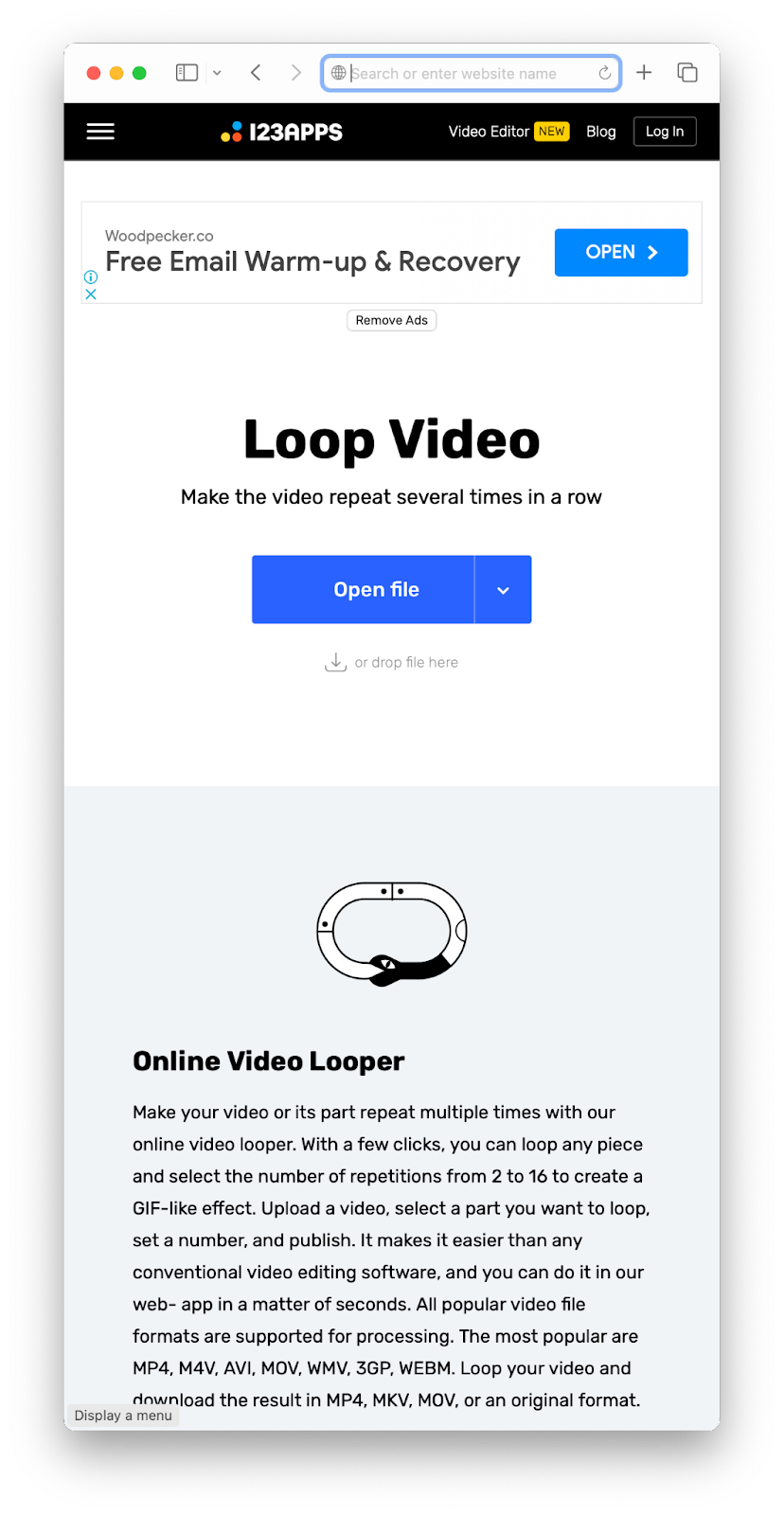 Step 2: Loop the video for Instagram
Now it's time to Edit videos. You can loop video and increase its video length. Trim existing video from both sides and select the number of repeats, for example three or five. Also, you can click Custom and enter the number of repeats that you like. You can playback the video by clicking the respective button and the video will be looped after publishing.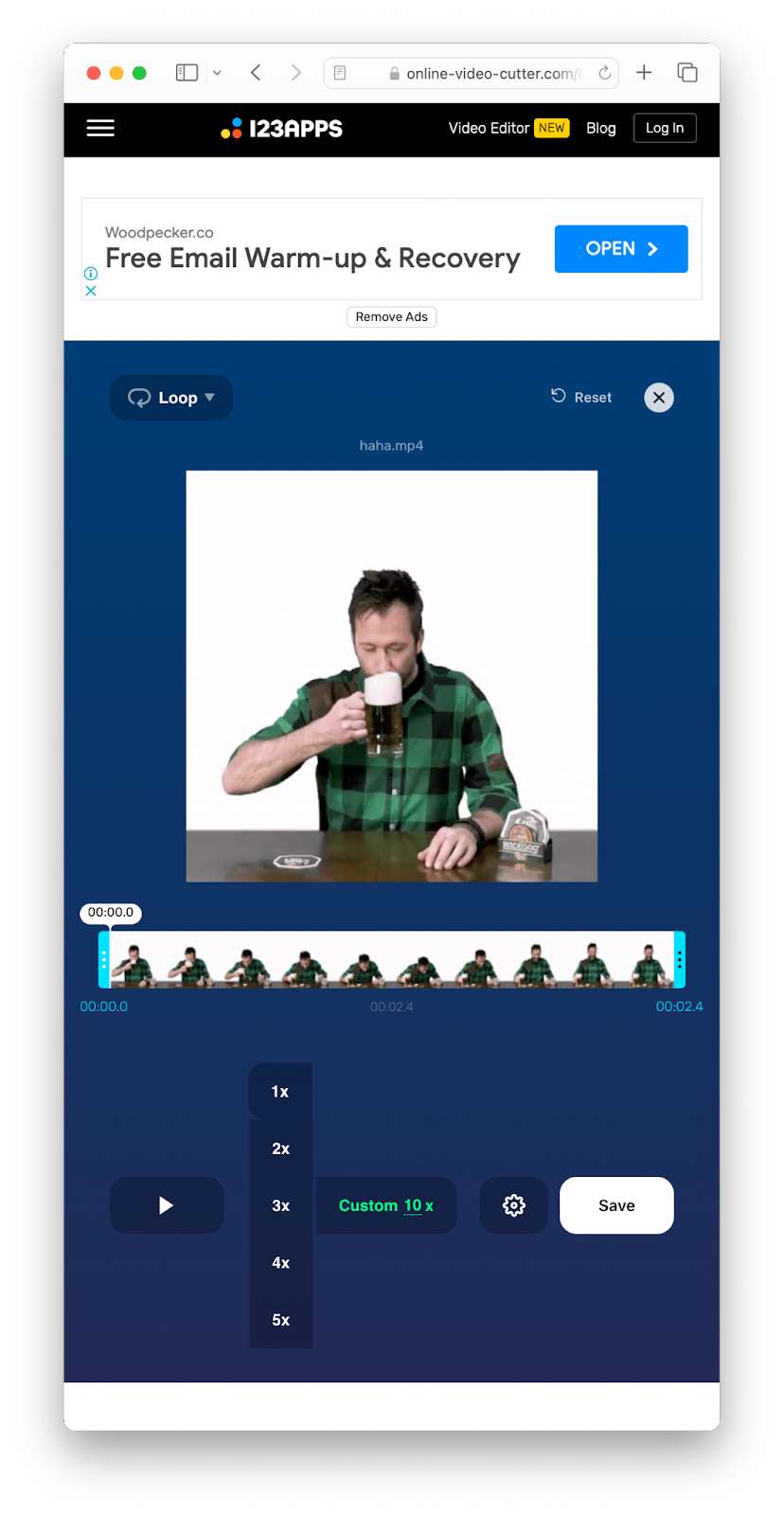 Step 3: Save the edit
Select the output video format you'd like to have. MP4 works for the most cases, but MOV is an Apple-oriented format played back by its system player QuickTime naturally. Also, there is a MKV file format and an Auto option that'll preserve the file in its original video format. Click Save.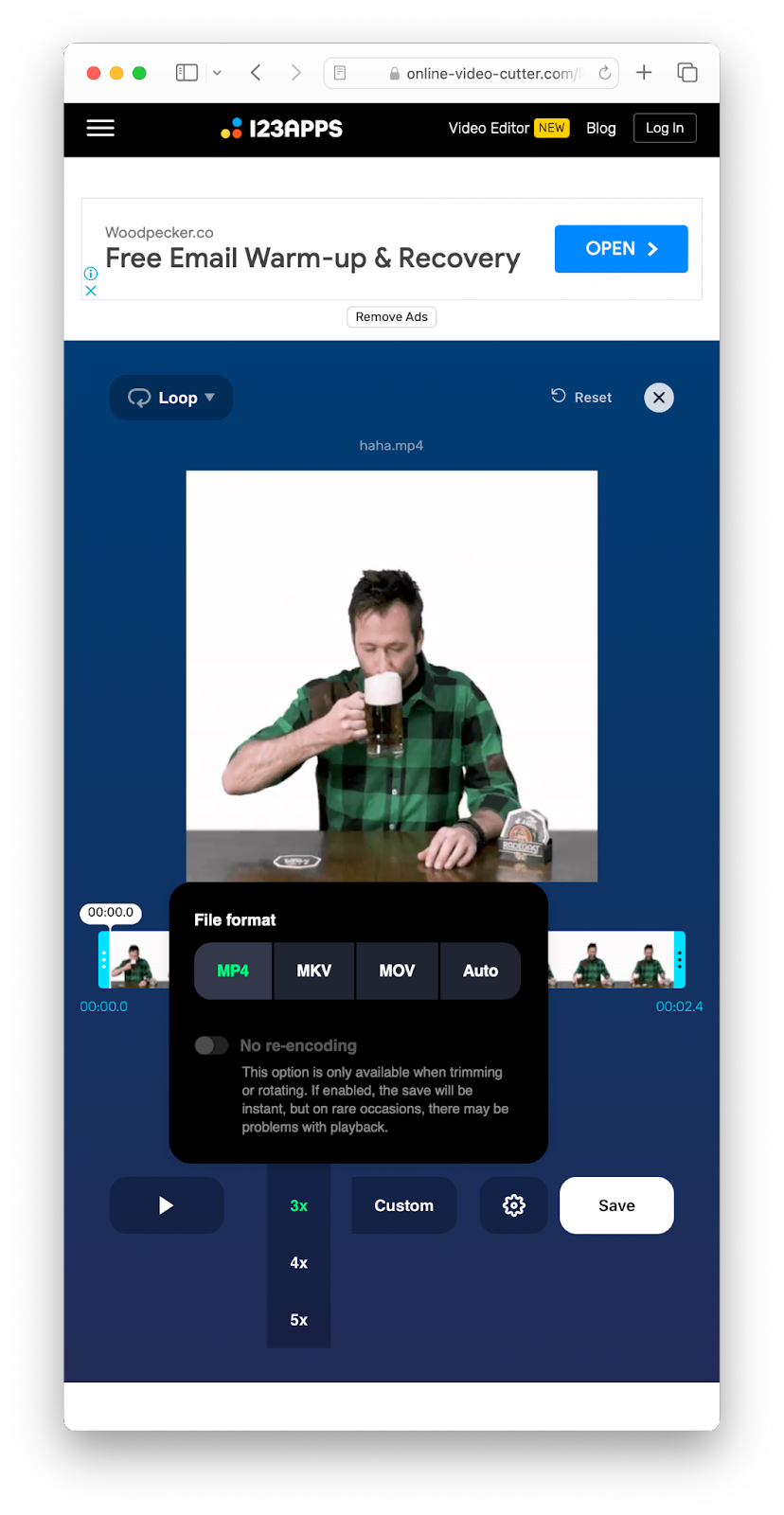 Bringing looped video to your phone
If you open the Video Looper on your phone, the video gets saved to the device's storage or a cloud storage like Files for iOS. Also, you can move your files to your Photo gallery so it's easier to find them from within Instagram.
Types of videos in Instagram
Instagram is such a definitive app that it's pointless to describe it. Everyone who has ever held a smartphone, most probably knows about Instagram and many people have actual hands-on experience. However, there are different types of videos on Instagram and you need to get to know each option separately in order to loop a video precisely for the destination.
Posts
Also called Instagram feed with standard horizontal video. It is the primary content type on Instagram that you can add text to, and viewers will scroll it as a regular webpage. Previously you could've only added still photos but now you can add videos (3 - 60 sec) or a mix of photos and videos to one post so they appear in the carousel.
Stories
Stories are temporary photos or videos, up to 15 sec, that you can publish and they won't appear in your feed. They stay active for a couple of days and then disappear. This requires constant attention from your audience. You can pin down your stories so they can be accessed anytime later by people who visit your Instagram profile.
Reels
Reels gain its popularity since 2020 and it's important to consider this type of Instagram content. It's supposed to be short engaging, either fun or informative videos from 15 to 30 seconds. You can record and optimize clips consisting of multiple pieces, add background audio, sounds, filters and other visual effects. In other words, it's TikTok on Instagram. Reels help you get more followers, reach out to new audiences, and try your hands on new types of content.
IGTV
This acronym stands for Instagram TV, and there's no strict limit on the number of seconds like with other content types. The time for this content type varies from one minute to 15 minutes on unverified accounts and up to 1 hour if you have a pro and verified Instagram account like most influencers do.
Loop a Video on Instagram Story
Boomerang is a feature in Instagram stories that can loop a video back and forth so it plays back absolutely seamlessly. It's similar to throwing a real boomerang; it flies forward and then returns back to the same spot.
Step 1: Record a boomerang
After opening Instagram, click on the circle with your profile picture to record stories. Select a boomerang feature with an Infinity symbol on the right. The recording button down below will have an updated look. Hold it and record short action for about three or five seconds.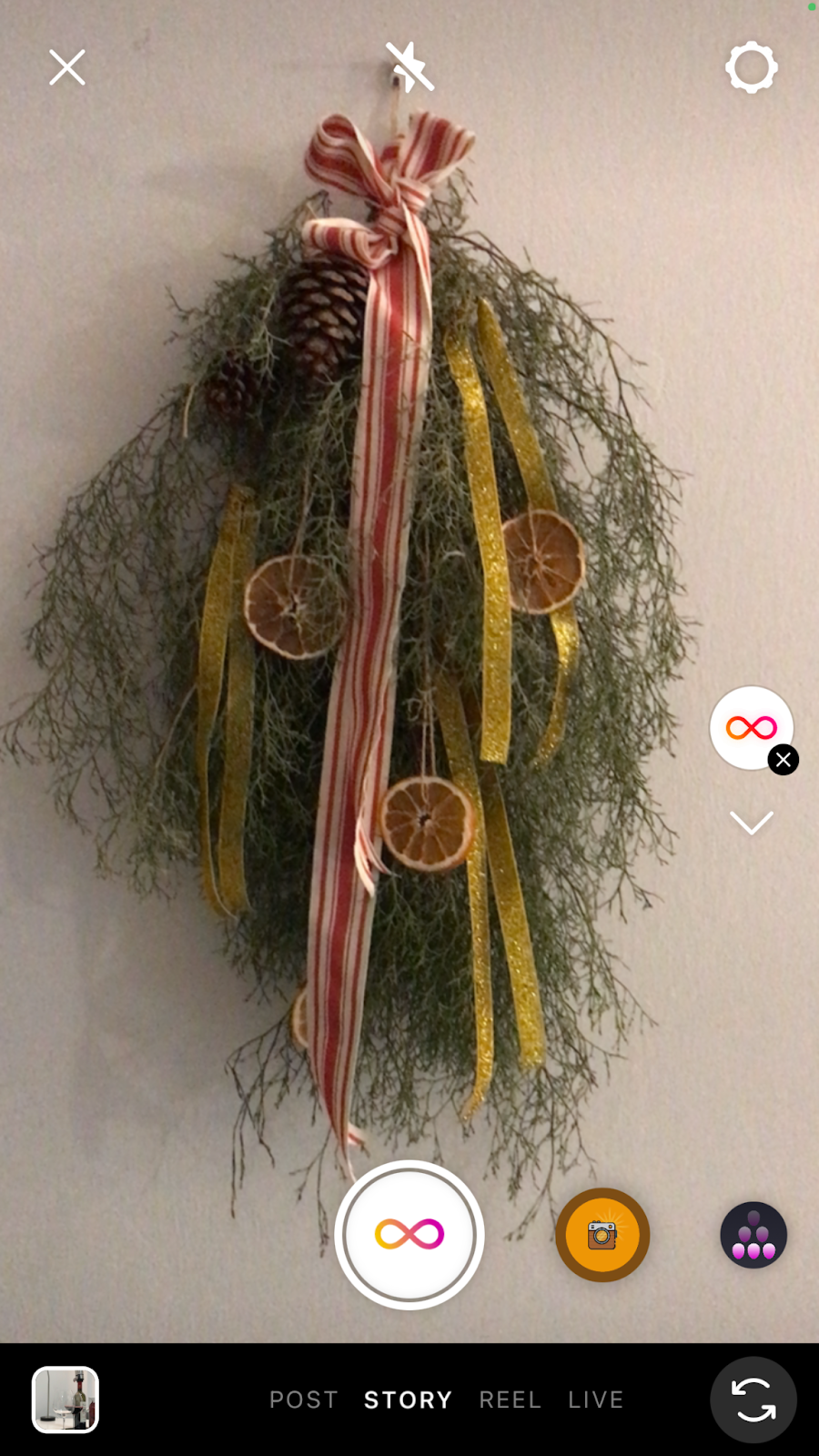 Step 2: Customize
Preview and improve your boomerang video, add stickers, hashtags, locations, people, or music to personalize your content item. If you want to delve deeper, click on the infinity button at the top.

Step 3: Final touch and publish
Choose from available boomerang effects: either Classic loop, Slo-mo, or an Echo effect for dreamy or even psychedelic boomerang stories. Also, you can trim your boomerang video clip in this editor. Click Done when you achieve a desirable effect. Now you can go ahead and publish this looping video to your Instagram story.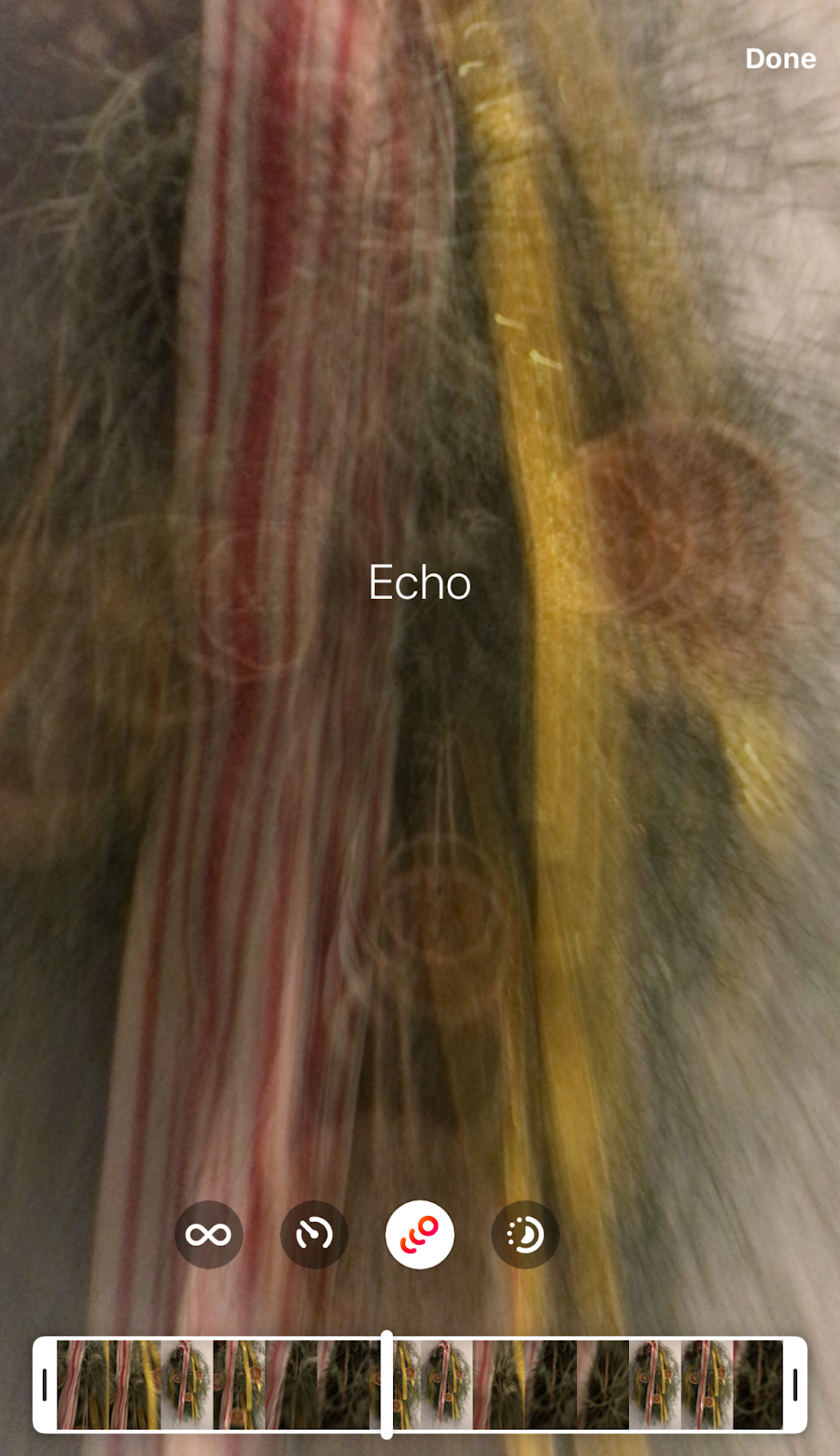 Boomerang App on Android or iPhone
Boomerang is a type of a seamless video loop that works like a swing. It plays video forward, and then backward so returns to the same place as a real boomerang. After that, it repeats infinitely.
Boomerang used to be a separate app for looping video made by Instagram developers. Now it's integrated in the main app because modern smartphones became way more powerful so they are capable of running more complex apps with more features. There is no need in having a family of micro apps when it can all be aggregated in one app.
However, if you are not satisfied with the way how Instagram's boomerang feature works, you can look up some other boomerang app in the App Store or Google Play.
Boomerang video maker Loop by social kit LTD
This looping video app is one of many on the AppStore that does exactly the same thing that Instagram does, but it offers more options, it has unique and specific filters, stylish color correction profiles and motion settings that the standard app lacks.
It's not a free app, but if you are serious about creating professional looking looping videos for your audience, you may consider checking out this option.
Step 1: Select video
To select a video from a photo gallery you need to grant access as this third-party app requires. Choose a boomerang style from multiple options, such as Bounce, SloMo, Spring and Echo.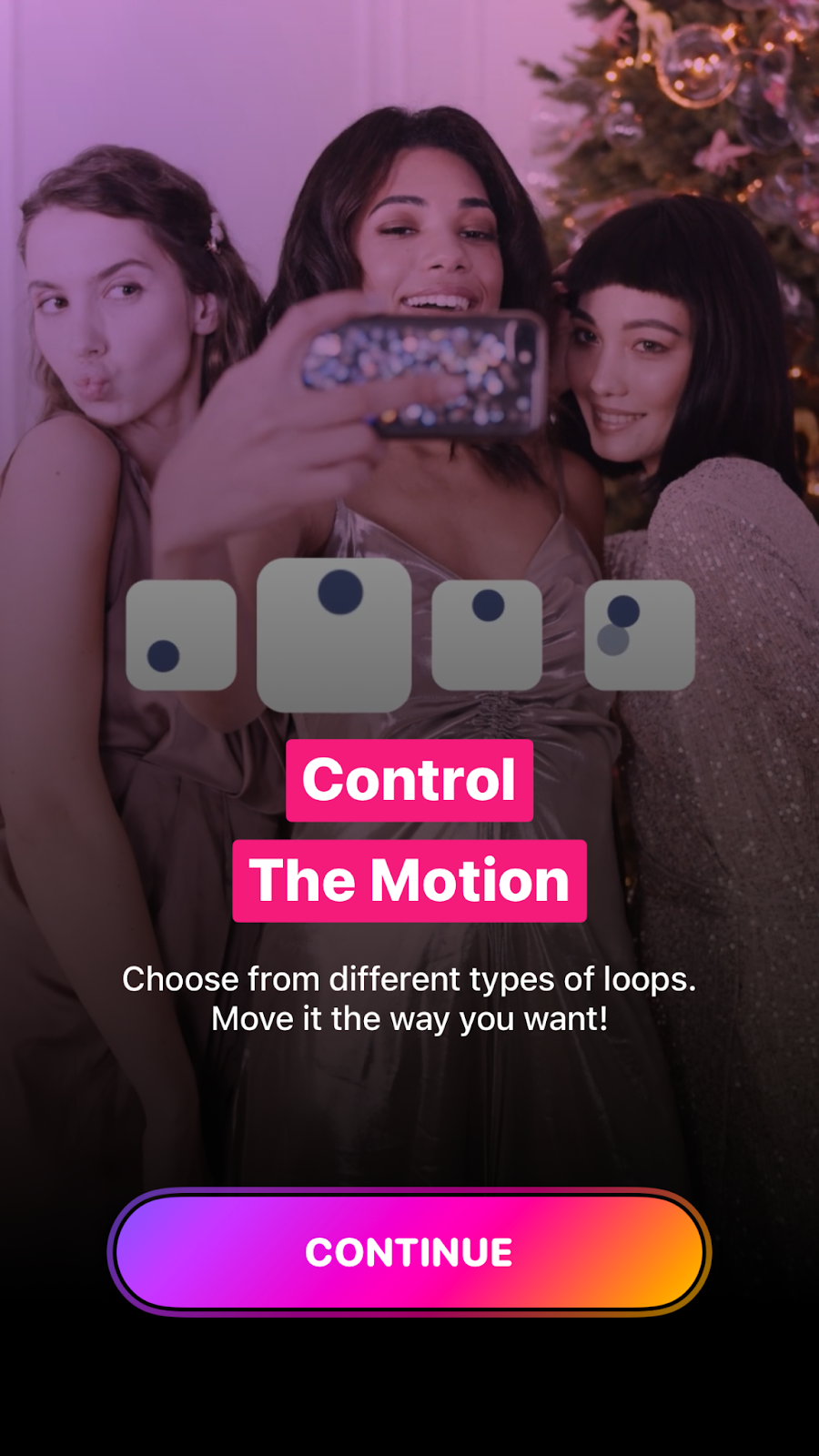 Step 2: Adjust and add effects
This app provides a lot of various filters so that you can easily make your video loop pop. You can add cool looking glitchy effects, apply looks that include imitating a film, vignette, cold, warm color filters. Also, there are optical filters such as Mirror, Grid, and many more.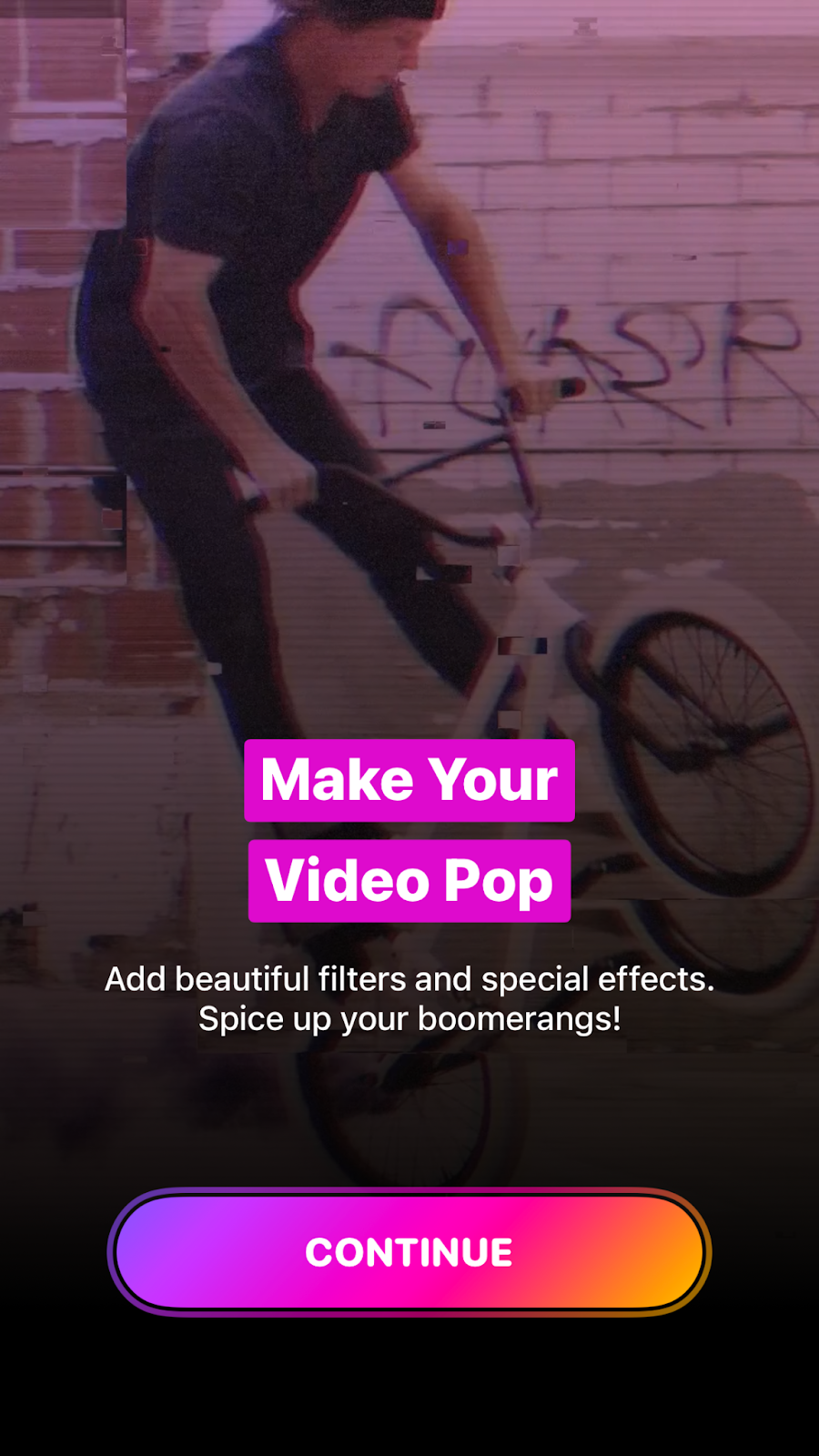 Step 3: Publish
The good thing about this third-party looping video app is that you can easily save your video to your device's storage, post videos on TikTok, Instagram or any other app. Lots of content creators use unconventional tools to be more unique and stand out from other creators who create video for Instagram.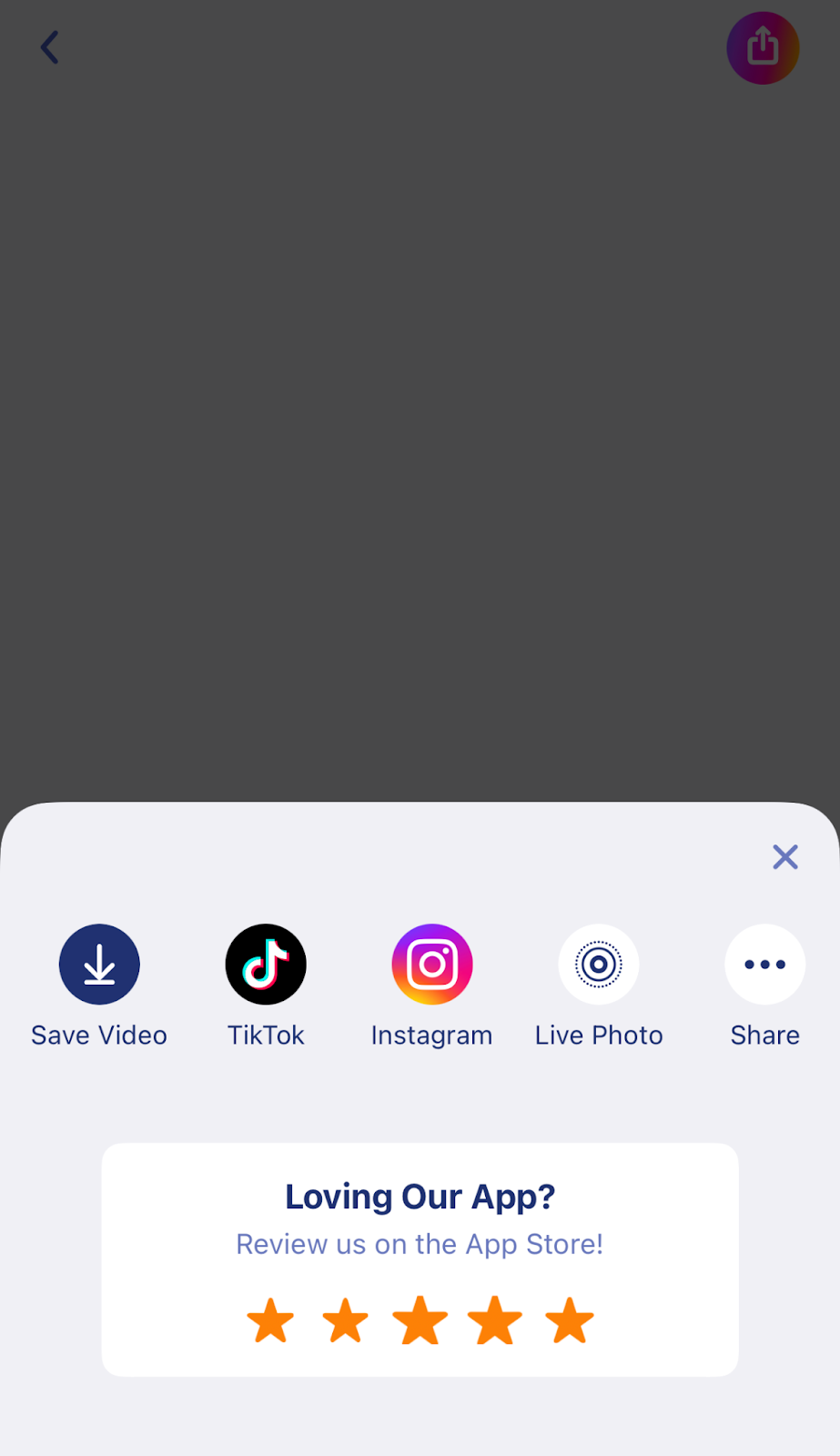 Final word
Such a simple trick as loping videos on Instagram may generate more views, bring new audiences, help you come up with more creative, yet concise ideas. That all brings your social network appearance to the whole new level, an engaging Instagram story improves your own brand recognition, which eventually may help you find new sponsors for placing ads and earning on your visual content creator activities. You can start to create videos without a specialized video editing software.
FAQ
Are Instagram videos always square?
No, Instagram videos are not always square. They used to be so in the early days of the app when Instagram offered just one type of content, but now there are Reels, Instagram stories, Live, etc. Well, you still can crop your Instagram video to ask where dimensions, most videos will be published full-size vertically.
What is the difference between a loop video and boomerang?
Regular video loop just repeats itself Over and over, while the boomerang video plays back a segment naturally, and then plays it back in reverse, like the Fast Backwards button does on a video player. A boomerang feature provides a more seamless playback and it works best for very short videos without a voice over. The best timing for a boomerang video is 3 to 5 seconds, while a regular video loop can be from 10 seconds to 1 hour.
How do you loop a video on Instagram?
There are multiple ways to loop video including a built-in Boomerang feature at the step when you publish an Instagram story, using a third-party online service to create looping videos. It's like an online editing tool that lets you create a short video loop or a slightly longer video file with more effects than you could do solely in Instagram video editors.
How do you loop a video for Instagram reels?
Reels repeat themselves automatically like TikTok videos, so there are no additional steps to make it looped. Just trim your video creatively up to 15 seconds in length, add video effects, etc. so this Instagram Reel looks like a great looped video example.
Why are looped videos so popular?
Looped funny videos frequently get viral so let's try to understand this phenomenon. First, human nature is that we like what's familiar to us. Second, the attention span of a modern social network user is merely a few seconds. When we add this up, we get a recipe that just works like dark magic on people's focus.
Is looped video better than GIFs?
Loop videos reminiscent of GIFs, short animated images that repeat forever. However, modern looped videos are way more optimized than old bulky GIF animations, which only had 256 colors and could not work similarly across various devices. Any modern video format, let's say .mp4 with an H.264 codec is multiple times better in terms of quality, number of colors, frame resolution and file size, and it works reliably on most devices.
Back