How to Add Music to a Video on iPhone
---
Table of Contents
When you capture video on iPhone, you can add comments with your voice and later trim videos in a video editor app – it's a built-in feature of the Photos app. In terms of video editing, it's not much you can do on your mighty device. Hence, you need to use a third party app from the AppStore or an online web service to complete such tasks as adding background music, throwing multiple video clips onto a timeline, syncing everything, applying effects, etc.
123apps Add music to video tool
Step 1: Upload a video
Open the "Add music" in Safari or another web browser on your iPhone. Click "Open file," select a video file from the video gallery or from the files menu in iCloud. Once the first part is loaded, you can add more video files by clicking Add right in the editing window.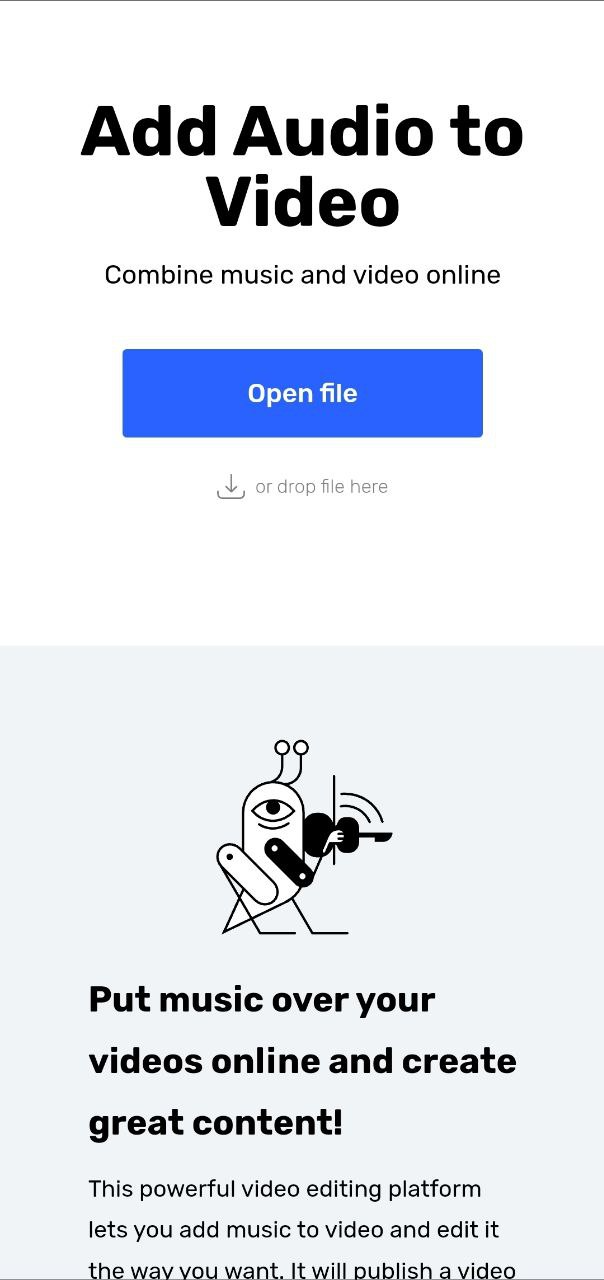 Step 2: Add music to video
Go to "Files" in the top left corner and click "Add files" to select background music for your video. This music file has to be downloaded from your device. It can be in any popular audio files format: .mp3, .m4a, .alac or any other modern audio file format. Use the play icon to preview.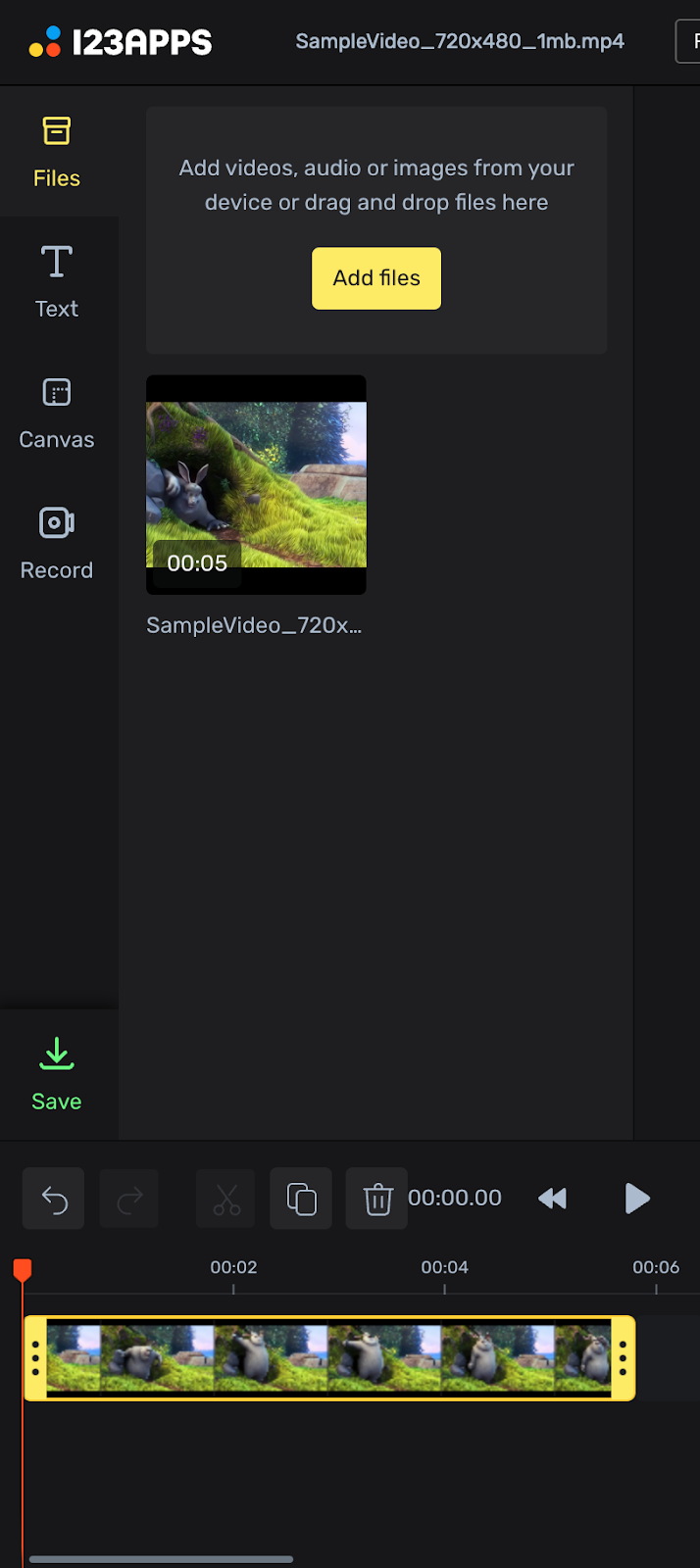 Step 3: Save the edit
After you've added music and multiple video pieces, you can divide them by using the "Scissors" tool. Delete or rearrange clips to implement your video cut scenario. Trim the length of the audio by the length of your video. Now you can click "Save."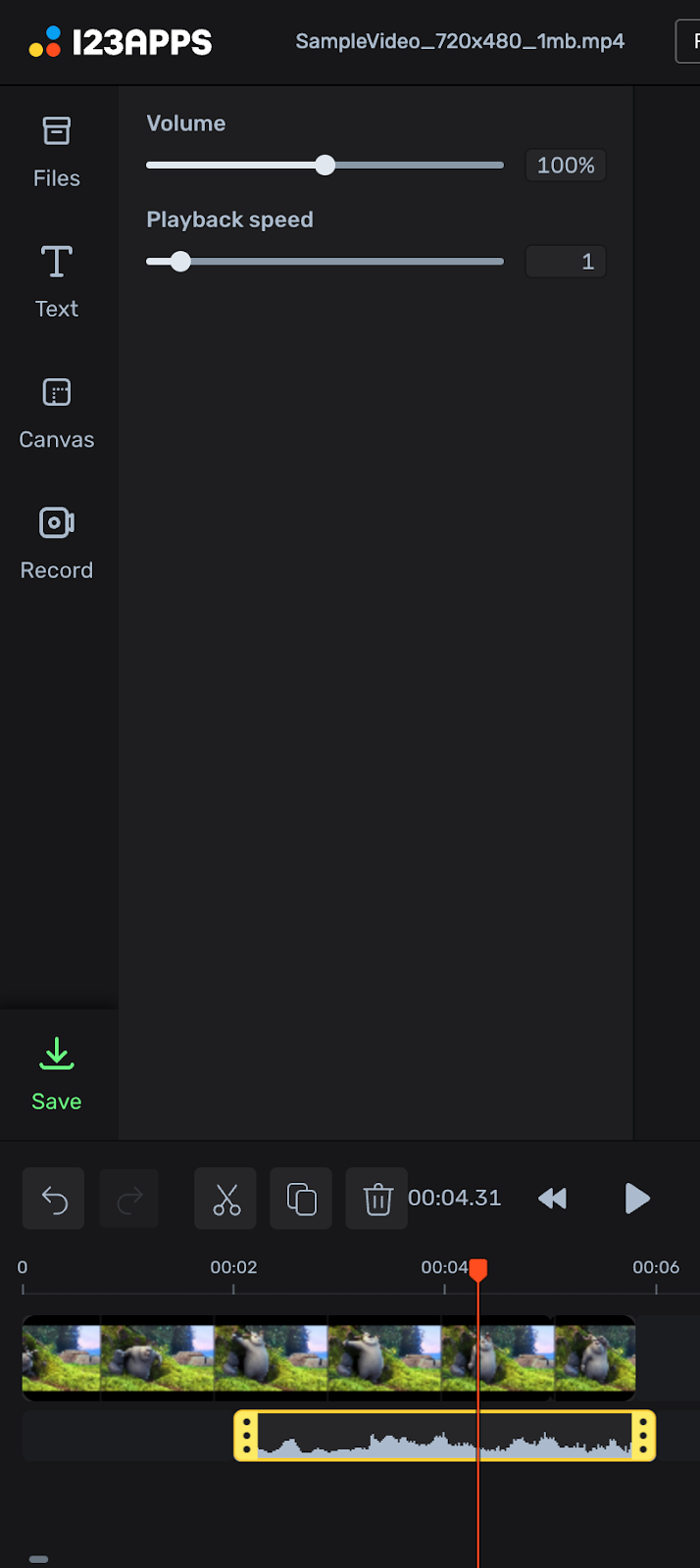 Use your iPhone
In order to create a nice video on iPhone, you need to shoot, preprocess and edit video with the right tools and an approach in which you understand each step and master every tool you're going to use.
Suggestion: shoot either vertical or horizontal videos for each project. It tends to be that most videos for mobile social networks such as Instagram and TikTok tend to be vertical, while more professional videos for YouTube are mostly horizontal.
We recommend that you use royalty free music so that your videos won't be blocked on YouTube and other social media.
Step 1: Trim video clips
After you capture video, you can do a few modifications to video clips right on the iPhone. Select a video in your Photo library and tap Edit. Start trimming the video clip using the yellow handles on a timeline to get rid of the excess beginning and ending so that it will not overload your project later.

Step 2: Adjust
All iPhone devices are equipped with an intelligent software that makes the most out of your photos and videos. Sometimes, a little touch can help you create a unique look to an existing clip and drive the contrast on multiple videos. Click on the Adjust button and drive the parameters for highlights, contrast, brightness, and others.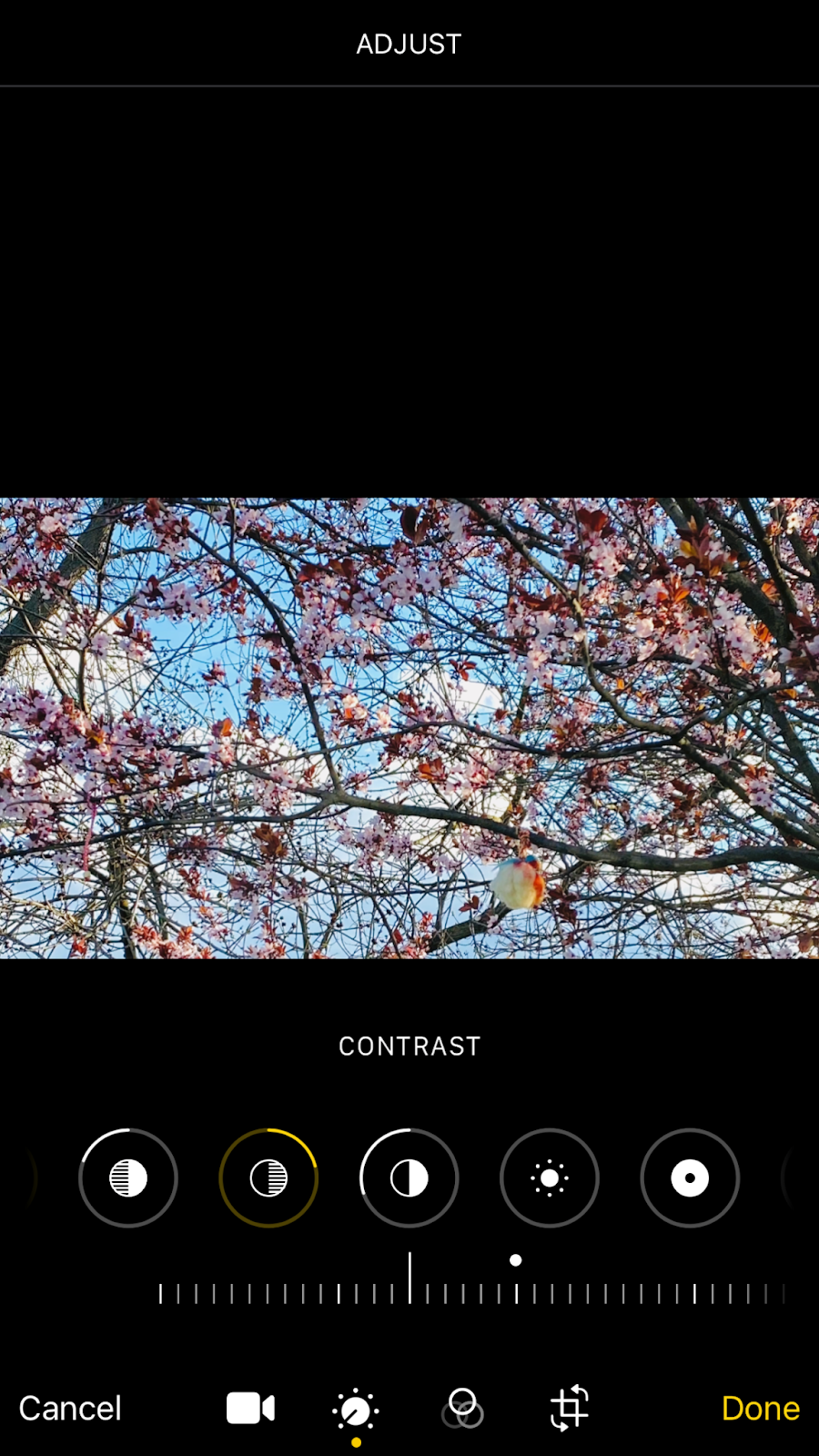 Step 3
Add Filters. They change color balance and other parameters, but unlike in the previous step, you can't edit them. In professional terminology, these filters are also called LUTs. You can pick a filter that will make your videos align better with the audio track you are about to use to add background music.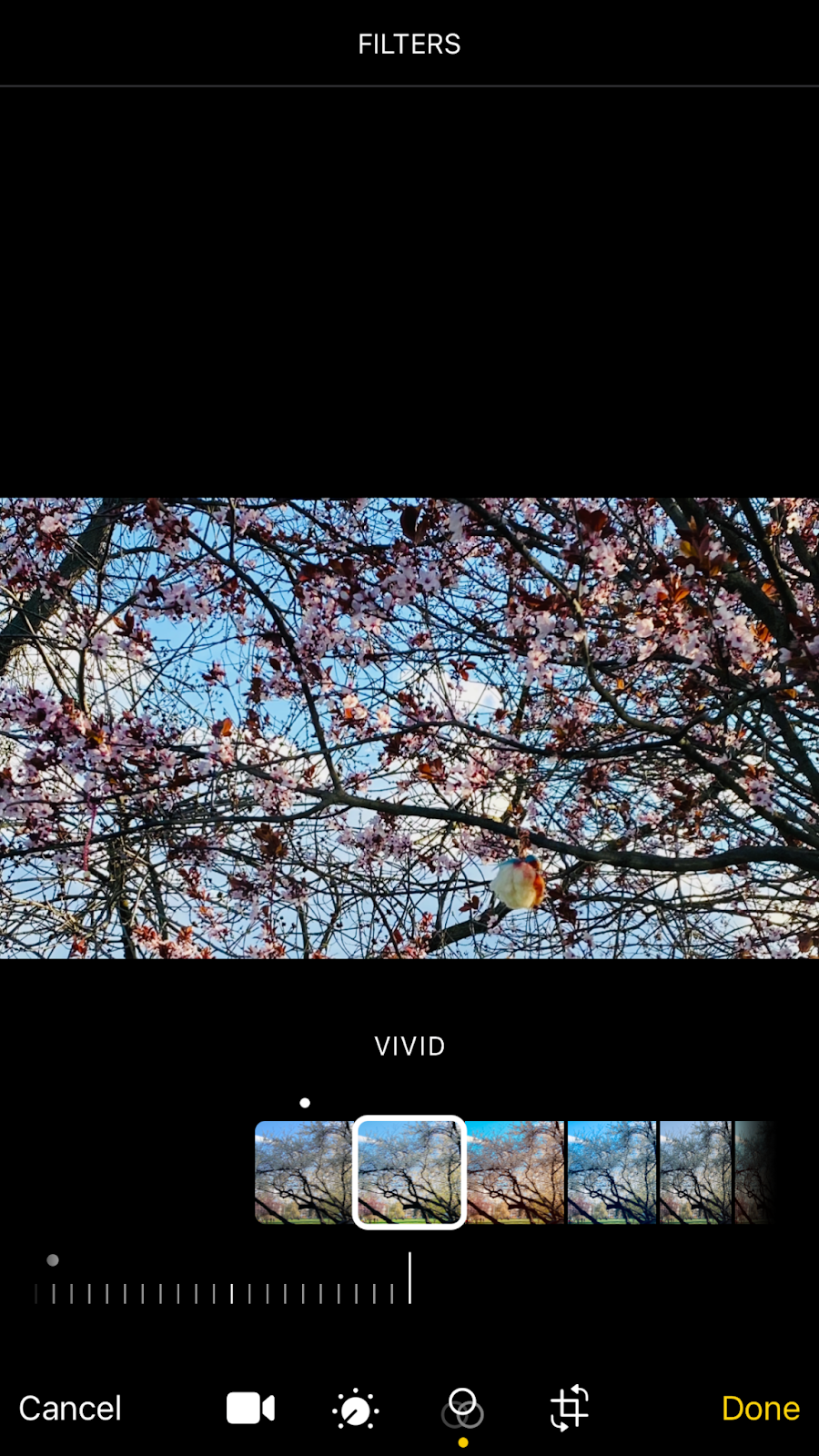 Step 4
Add a desirable audio to your Files. Whatever method or video editing app you choose to add music to video, all of them will eventually require you to select music or upload a music track from your device, so let's do that. Open any mp3 file on a specific website, but not a streaming service. Click Share and Save video to Files.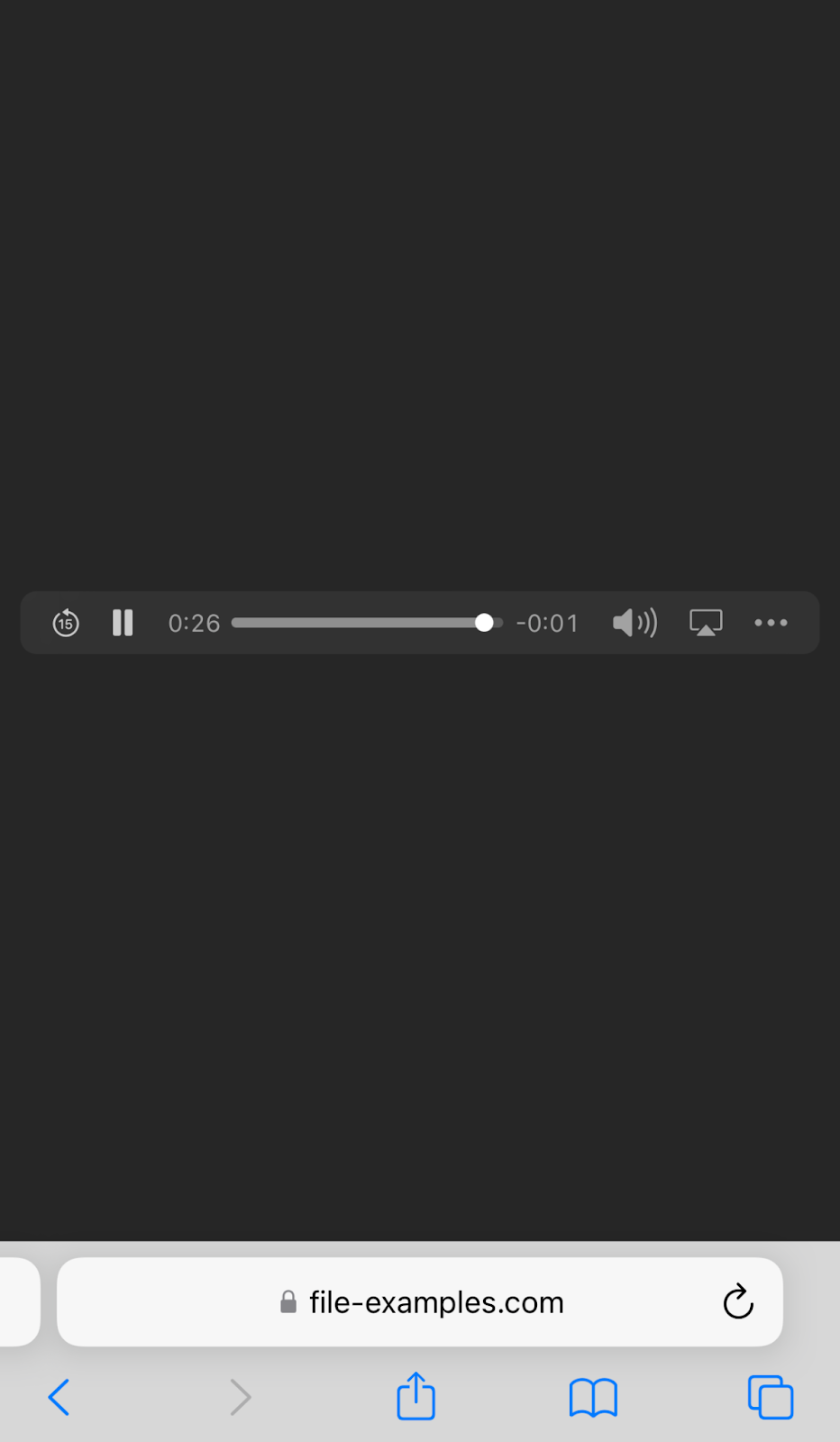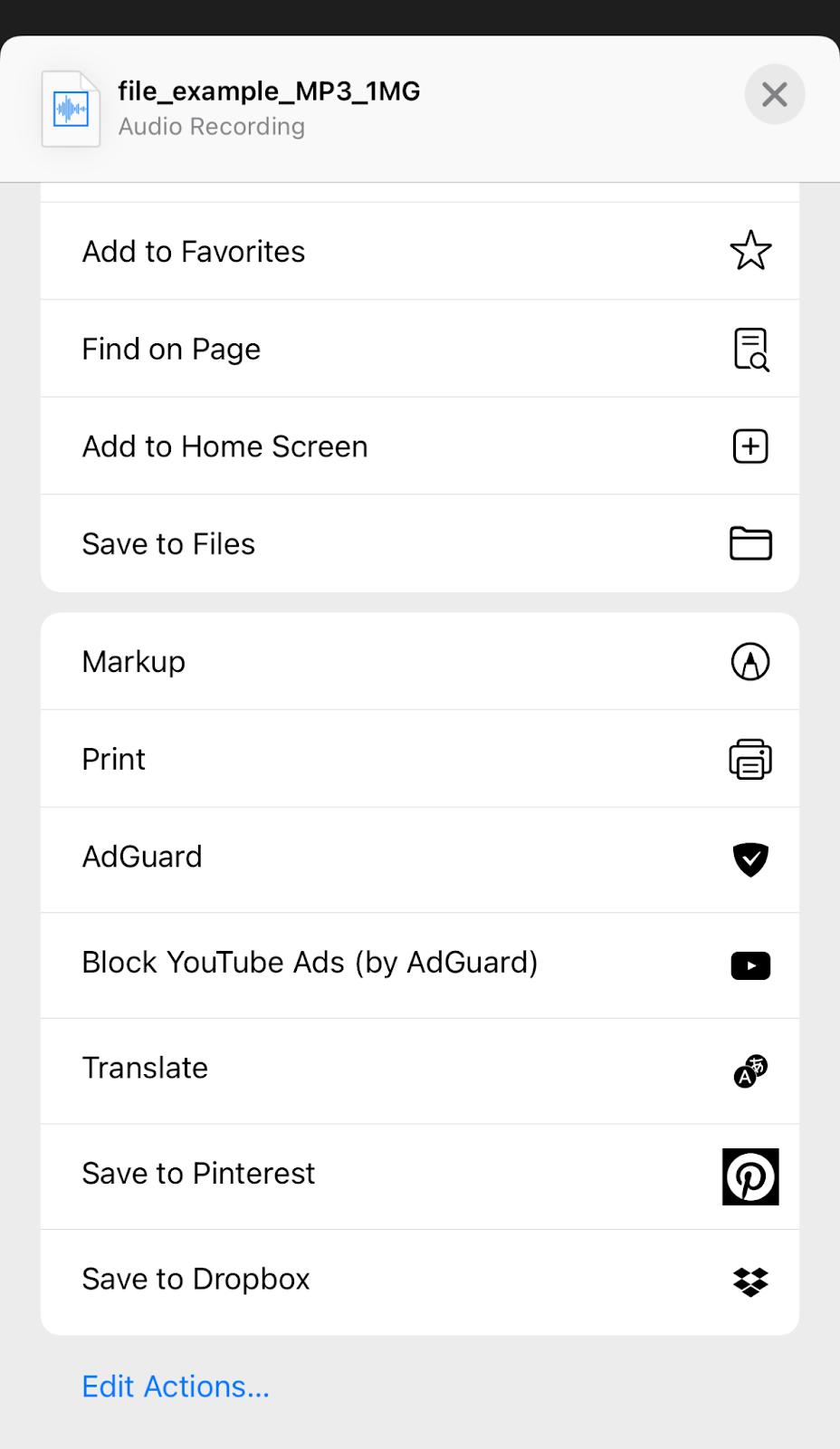 iMovie
iMove is a native Apple's application for video editing and what's more, it's a free app. It is a simple tool with little to no learning curve and it works on both Macs and iPhones. It optimizes the resource handling as no other app. iMovie app usually requires the most recent iOS version so be prepared to update your phone's iOS if you want to use iMove to add music to video.
Step 1: Start a project
You'll see the main screen with Projects. Create a new project by selecting the type "Movie." Select video fragments and photos from your camera roll in the Photos app. In the editing view, you can click the question mark button to see the tooltips, they'll help you learn how to use all the features. Click the Play button to preview.

Step 2: Add a theme
Add music to video. This step is not very intuitive but once you do it, you won't get lost the next time. Click the gear icon on the bottom right. Then turn on "Theme Soundtrack." You can select from multiple built-in themes, they will affect theme music and some other effects.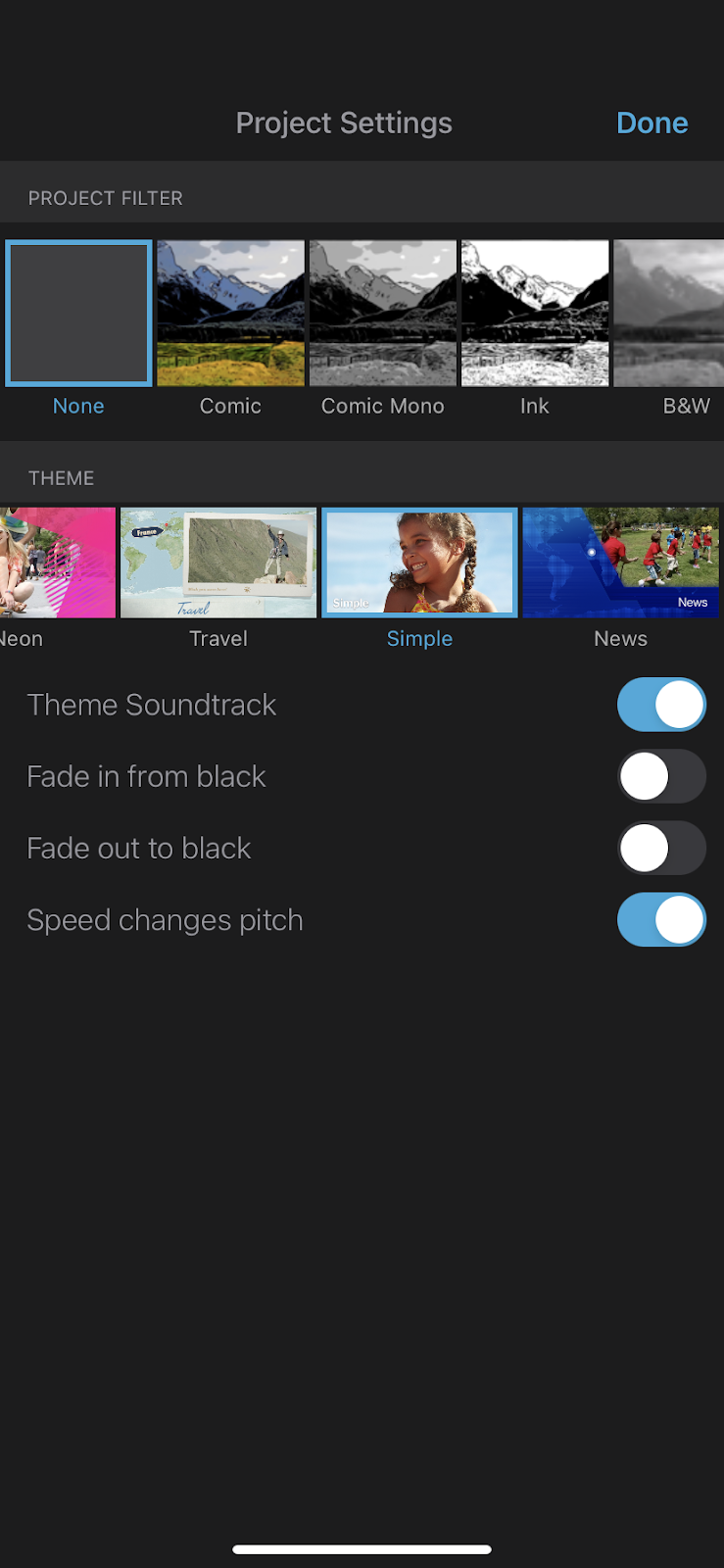 Step 3: Pick custom music
You can add music to video that you like and that'll express the idea better. Click the Plus button in the editing view. It's a control center for all your modifications. Tap Audio in the middle of this menu. Preview a suitable track for your video and hit a plus button next to the track if you like it as your background music. Tap music you like the most.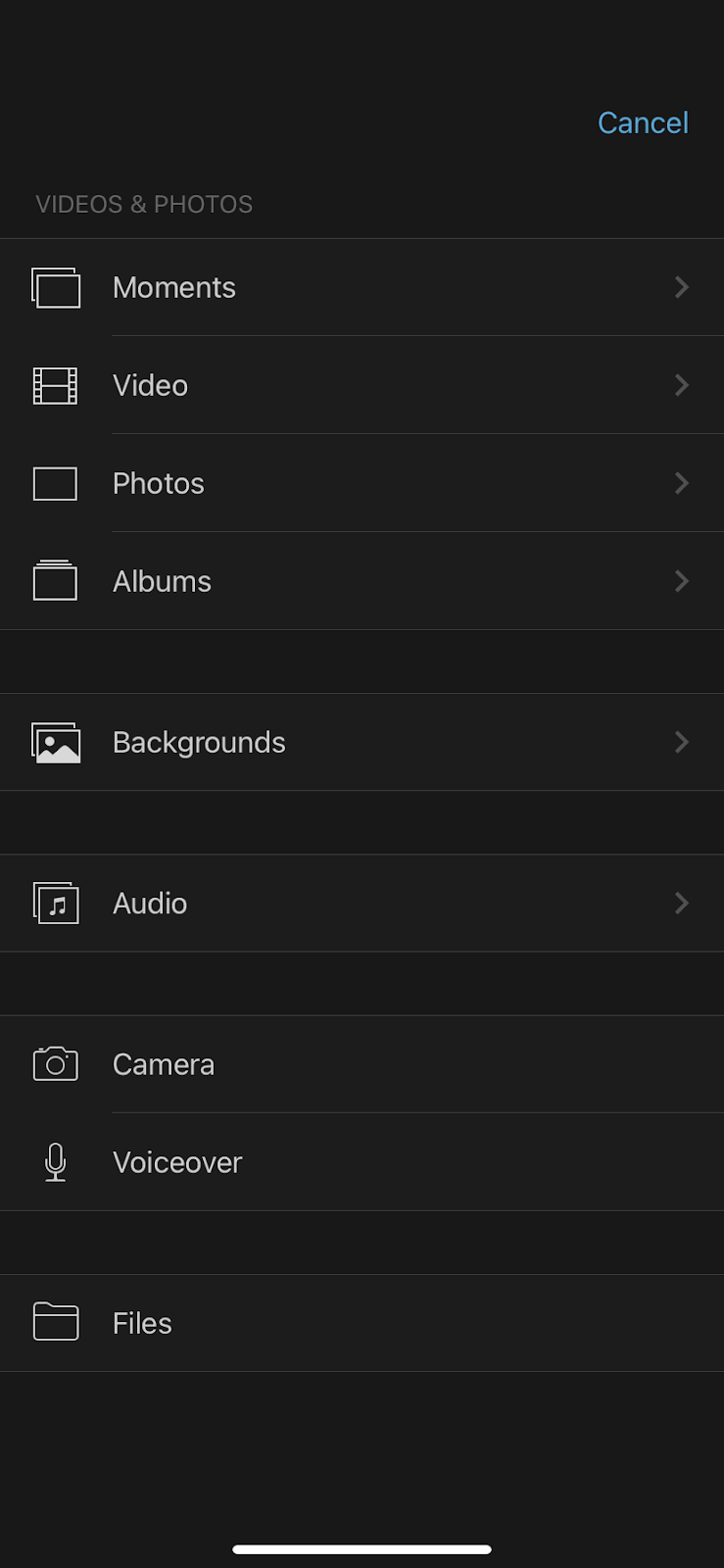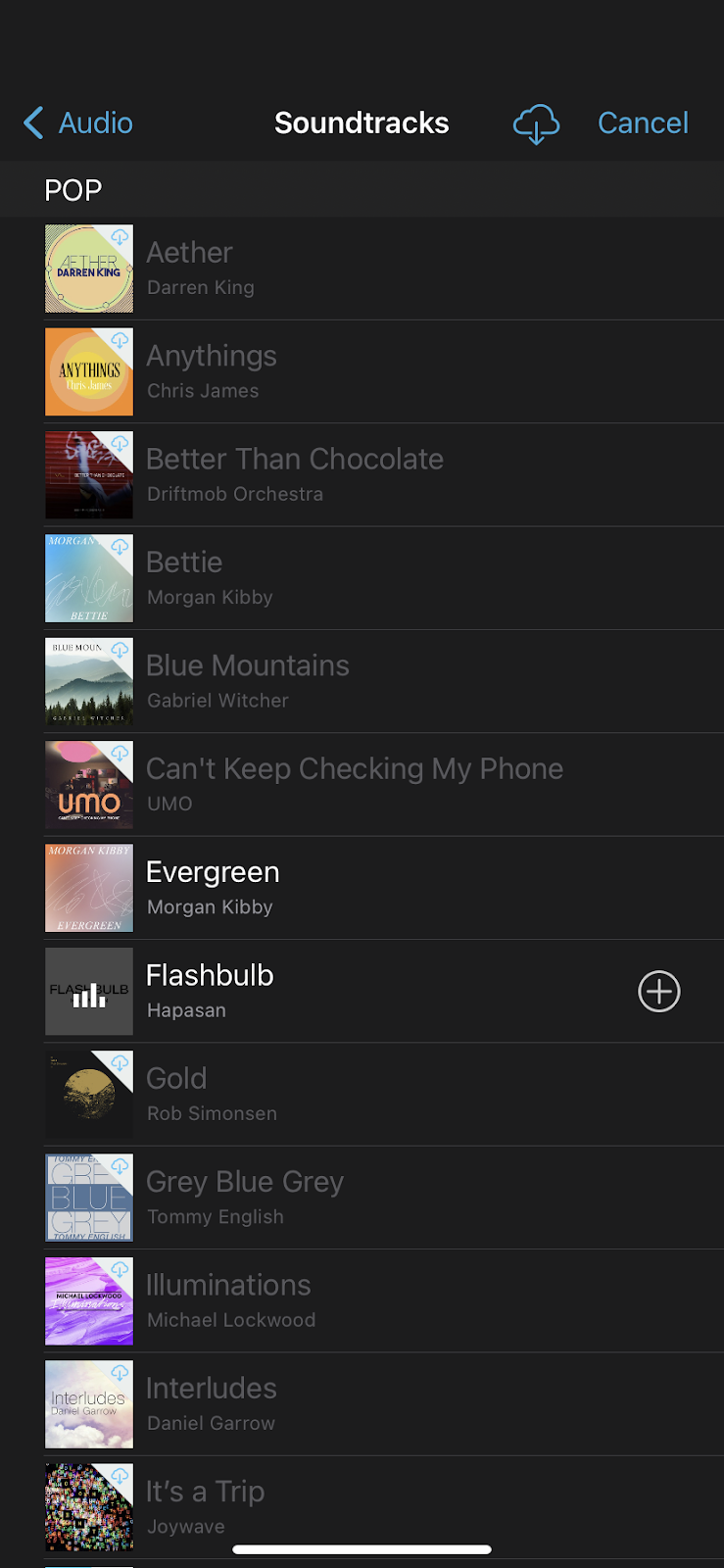 Other tools to add music to video on iPhone
There are many tools other than iMovie that allow you to add music to video on iPhone that you can get from the App Store. Most of these apps are either paid or will add a watermark on the output file, but it's fair to pick a few options so that you can decide which tool suits you best.
Adobe Premiere Rush: Video
This is a trimmed down version of the desktop tool Adobe Premiere that many video producers use as their main tool for commercial videos. Of course, it has an option to add music to a video and it possesses an extensive music library, as well as a plethora of other tools for manipulating the video and audio content. You can pick up your favorite songs, add a sound effect or use your own music on videos you create.
This iPhone version of Adobe Premiere covers most tasks you might face while working with video on-the go.
The downside is that all the cool stuff, such as soundtracks, sound FX, engaging titles, and video templates are beyond the paywall. Adobe tools are reported by many users to be quite resource-hungry battery-draining monsters. No complaints on the functionality whatsoever, which means it will have your work done, but keep in mind taking that thick 20,000 mAh external charger or an old reliable USB charger.
InVideo (Filmr)
InVideo is a powerful app for iPhone that lets you edit and experiment with your videos. It features a lightweight UI, many basic and advanced features for video editing, including adding background video. A good bonus is that it has a built-in library for music tracks for any mood. It features a free trial, and then you'll need to decide if you are ready to pay for the PRO version.
VivaVideo
This tool has many customers who have video-blogging as their main occupation. It has animation effects, templates, and titles that can enrich your video footage. You can adjust color on your footage using this tool, add audio narration and add music to video and sound effects in the multitrack editor.
Lots of people who create video for popular social networks use VivaVideo, because it's easy to get started, cut & merge video, prepare it for publishing and deliver it to a platform of your interest. It's free to start and if you need advanced features, be ready for a subscription.
Final word
The music role in video scenes is so fundamental that people anticipate that every video has it. However, there are no built-in tools in most phones that have the background music option. With the 123apps tool, you can cut videos, merge multiple shots, and add music to video tracks. You don't need to install any software, just use your browser to perform this basic task. Editing videos is not a mystery but a skill that we hope everyone can hone.
FAQ
Which tool to use: iMovie or 123apps?
We recommend that you use 123apps for most basic cases, to merge a few videos or to add background music. iMovie is a great option for owners of newer iPhones and the latest iOS. This tool requires that you have plenty of free space on your device and it drains processing resources on your device, while 123apps does all tasks online. In addition, iMovie has a less convenient way of adding background music and then selecting a specific song instead of just one task.
Are there cross-platform tools to add music on iPhone and on Android?
Of course, any web-hosted video editor such as 123apps can work on both iPhone and Android phones equally in a browser which makes it a universal cross-platform tool. It doesn't eat up any of your device's storage which is a huge pro because Flash storage is still expensive and if you want to work with video, we recommend that you have a maxed-out 1 TB disk.
How can I add music to videos online?
If you have an iPhone, a few videos in your library and an audio clip saved on your device, you are good to go and open 123apps online to perform this exact task. Video creation has never been easier. Follow the steps in this tutorial and add multiple video pieces and add background music right in Safari.
How do I add music to a video without losing quality on my phone?
123apps is capable of publishing your video with the right music without any quality loss. It's a fully functional yet easy-to-use online editor where you can do all video tasks quickly and efficiently, keep the best quality, and publish your videos for social media platforms. You don't need other apps if you use this versatile solution.
Should I add background music to my video?
Any video can be twice as engaging and fun when you decide to add background music. Of course, we encourage you to add music to your videos. When the right composition is on, it will inevitably transform a so-so video into an exceptional masterpiece and your audience will get your message clearer and will remember your video forever because music evokes emotions and we remember things that are emotionally connected.
Can I add music to the video and keep my voice?
Yes, you can keep your on-video commentary and add soundtracks of your choice onto a separate audio track. It allows you to achieve this mixing sound effect that you can see on radio when two and more tracks play simultaneously. In addition, you can balance the volume of every audio in your project. We encourage you to use 123apps on your next video where you can add multiple songs without downloading a dedicated video app.
Back