How to Add Music to a Video on Android
---
Mục lục
Without a background audio track, most videos look like raw footage. Adding music to video is not rocket science, and this task shouldn't hold you back. Using the right tools, you can capture the action on your phone's camera, cut, and add music to video on Android alone. No need to use a desktop PC for this matter. The entire video production cycle can be done on your mobile device, from sketching an idea to rendering, embedding music to a video track, and uploading a video to the specific platform.
123apps Add music to video tool
Step 1: Upload a video
Open the "Add music to video" in a browser on your Android phone in our free video editor app. Click "Open file" or drag and drop the first video into the hotspot area. Once it's loaded, click Add at the bottom of the editing window and select another file.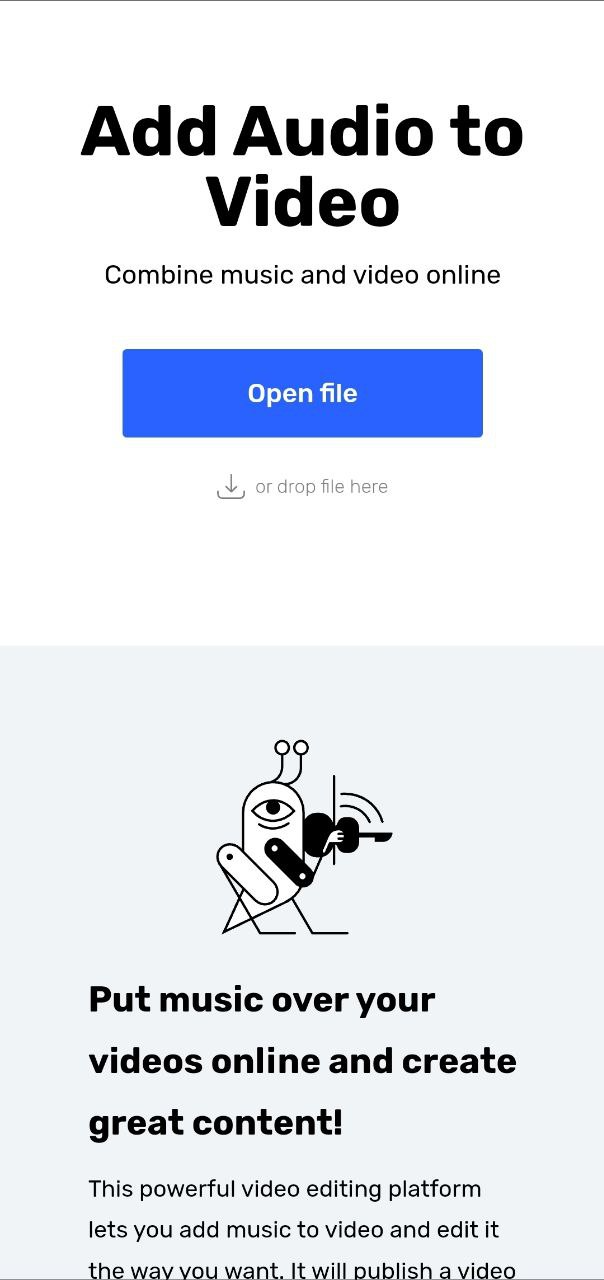 Step 2: Add more video files and audio
Go to "Files" and click "Add files" to include multiple video clips in your project if you need. After that, using the same option, add an original audio track file from your device. It can be an .mp3, .m4a, .wav or any other modern audio formats.
Step 3: Edit, sync, and save
Place the playhead and use the "Scissors" icon to cut a video clip. Cut the audio to length with your video so that it doesn't go out of the boundaries of your video – it's the correct way to add music to video. Preview your clip and then click Save.
How to add music to video on Android using other apps
There are many tools out there that allow you to add music to a video on Android that you can get from the Google Play store. Most of these video app options have paid versions, others might not let you export the result without a watermark, but it's important to run through the alternatives for you to decide what tool suits you best.
InVideo (Filmr)
InVideo is a powerful app for Android that lets you edit video and experiment beyond simple tasks. It features a lightweight UI, many basic and advanced features for video editing, including adding background music to video and other editing tools. A good bonus is that it has a built-in music library for audio tracks for any mood. It provides a free trial, and then you'll need to decide if you are ready to pay for the PRO version.
VivaVideo
This tool has many customers who have video-blogging as their main occupation. It has animation templates, video effects, and titles that can enrich your video footage. You can adjust color on your footage using this tool, add audio narration and add music to video and sound effects in the multitrack editor.
Lots of people who create video for popular social networks use VivaVideo, because it's easy to get started, cut & merge video, prepare it for publishing and deliver it to a platform of your interest. It's free to start and if you need advanced features, be ready for a subscription.
Adobe Premiere Rush: Video
Pro-grade video editing experience on your Android phone. It's a lighter, trimmed down version of its desktop version Adobe Premiere that every professional video creator has. It's aimed at bloggers and vloggers who need to create elaborate projects on their mobile devices. You can do basic stuff such as adding audio files over video, cut, trim videos, apply transitions, panning, and many more.
All the features that include soundtracks, sound FX, custom titles, and templates are paid. Another downside is that it might be very resource-dependent and drain your battery in no time if you render a larger project.
Final word
The music role in video scenes is so fundamental that people anticipate that every video has it. However, there are no built-in tools in most phones that let you do that. With our tool, you can cut videos, merge multiple shots, and add music to video tracks. You don't need to install any software, just use your browser to perform this basic task.
FAQ
How can I add music to videos online?
If you have an Android phone, a few videos in your library (also called as camera roll) and an audio track saved on your device, you are good to go. Open 123app in Chrome or another browser and follow the instructions in the app.
How do I add music to a video without losing quality on my phone?
123app is capable of publishing your video with audio without any quality loss. It's a fully functional yet easy-to-use online editor where you can do all video tasks quickly and efficiently, keep the best video quality, and publish video for every media platform & social network.
Should I add background music to my video?
Of course, we encourage you to add music to your videos. When the right composition is picked, it can turn a good video into an exceptional one that will create an unparalleled emotional experience that your audience will remember forever. You can even add your own music to videos that'll make them more personalized.
Can I add music to the video and keep my voice?
Yes, you can keep your on-video commentary and add a background sound of your choice as a separate track. In addition, you can balance the volume of every audio in your project.
Quay lại